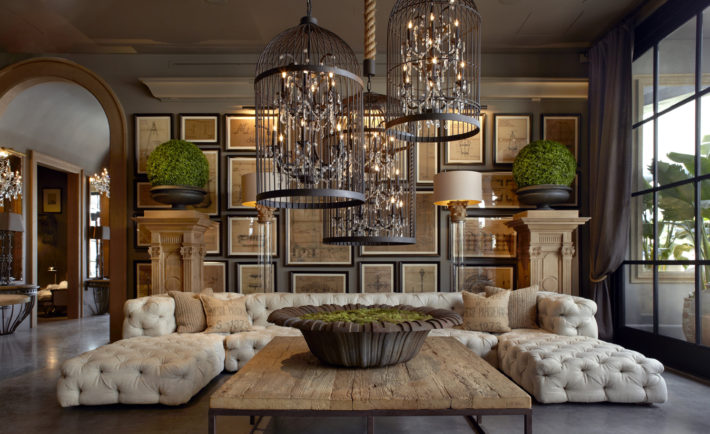 The rustic barn look has become increasingly popular in home design. Homeowners in the city and beyond crave the welcoming country vibes this style gives off. Here's how you can achieve this style in your home, no matter where you reside.
Play around with natural elements. The key to any rustic decor are the natural accents and features you incorporate into the room. Elements found in nature like stone, wood, leather, and linen, are utilized to give that comfortable, natural feel. Wood accents are a major component to any rustic home. Whether it's wooden wall panels, hardwood floors, or exposed ceiling beams, the appearance of wood amplifies all that is warm and welcoming in modern farmhouse design.
Add a focal point. Barn doors are an extremely popular accent that homeowners want to feature in their farmhouse design. Install them as sliding doors to create room dividers or on larger walls to create the look of more depth. Barn doors can also be repurposed into coffee or end tables, chairs, or window shutters. Using this element as your focal point will tie the entire barn look together!
Accessorize with rural fundamentals. Accents are a homeowner's best friend, particularly when it comes to barn décor. Compliment hardwood or stone floors with a woven rug. Dress your walls up with photos in frames made of reclaimed wood. Treat your windows with natural layered fabrics like canvas or cotton. Other accessories in fabrics like burlap and striped or checkered patterns make for great accessories that will give your home the feel of an old farmhouse.
Create harmony with color. Loud, vibrant colors aren't used throughout barn house design. According to the color experts at Glenview painters, light neutrals like white, linen, cream, and beige create a backdrop that pairs well with the accessories and country-style elements incorporated into barn décor. Play around with variants of these colors, like caramel and cream, to bring even more warmth to your decor. Adding pops of color in shades of rust red or navy blue can tie the look together and add personality to the space.
Try something new in your home with these rustic barn looks. For all the best in home décor and design, stay tuned to Jaron's Furniture blog.