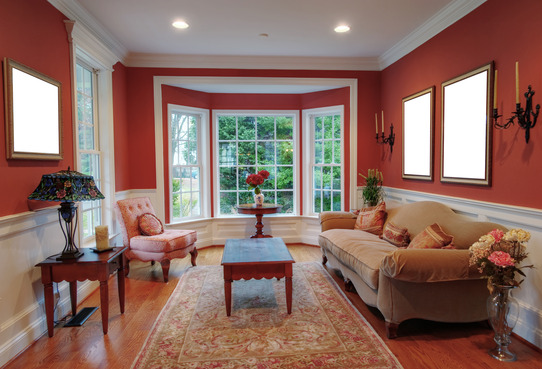 Your living room is often the first space your friends and family see when they enter your home. It is a space for entertaining, lounging, and enjoying. Discover how you can easily and efficiently turn your living room into the lounge space of your dreams! Ask yourself the following questions to create a plan for your living room redesign.
What will you use the area for? The first and most important consideration you need to address – how the room will be used. A family of four will utilize a living room a lot differently than a young newlywed couple. Once the room has a purpose, you'll be better equipped to determine the types of furnishings and accessories the space needs.
What are the measurements of the space? Take measurements of your living room from wall-to-wall. Measure the windows and doorways and any built-in structural elements the room has, like a fireplace, as well. This will allow you to create a workable floor plan.
What is your budget? Outline what you have to spend on your living room. Include every aspect, from furniture, to paint color, to any additional services the room might require, like carpet installation or floor staining. From there, you'll be able to create your wants and needs list.
What do you need? More importantly, what do you want? When designing any part of your home, it's important to think about your needs and wants. Once you have your measurements, you'll be able to get a more accurate idea of the types of furniture and accessories you can fit into the space. For the living room in particular, you'll need to include the basics, like a sofa, armchair, and coffee table. If your living room has the space, then you can consider adding extra accent items, whether it's a decorative side table or an accent chair. Once furnishings have been addressed, you can consider your wants, like an elaborate chandelier or a festive accent plant.
Are there room for upgrades? If you have wiggle room in your budget, allocate those funds to upgrades! Whether it's the more expensive paint option that doesn't require a primer coat or an electronic furnishing, these minor upgrades can make a major difference in the design and comfort levels of your living room.
Have you settled on a theme? When you're designing your living room, it's important to choose a style and stick to it. According to the design experts at Colorado Springs painters , knowing your theme will guide you when it comes to choosing furniture, accent pieces, decor, window treatments, and even paint color. For instance, if you want to create an eclectic look, mix and match furniture textures. If you want more of an old-world style, opt for bulky wooden pieces with elaborate carvings. Defining the space with a particular style will help you tie the overall design together.
Have you focused enough on the living aspect? When designing any space in your home, it comes down to your personal tastes. As long as you feel comfortable in the space you have created, you've done your part. If you've filled the room with breakable vases, stiff chairs, and other elements that make the room feel cold and un-inviting to your guests. When you're done with your redesign, give your living room a comfort test! If you're happy with the furniture, color scheme, and decorative accents, you've done your job.
Decorating your living room should be a fun and exciting experience! When you're done, you'll be able to enjoy a space that you personally hand-crafted. Follow this sage advice to create the living room of your dreams!
This post brought to you by Westway Electric Supply, and online retailer of electrical supplies, components, and parts.