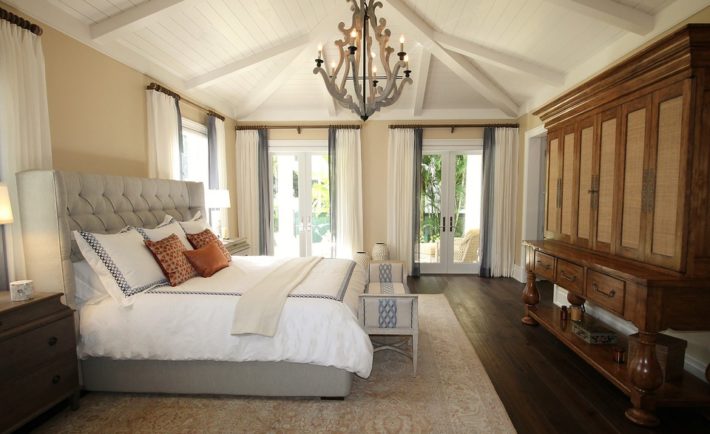 Finding a luxuriously large bedroom equipped with a walk-in closet isn't easy. In fact, finding storage for all of your belongings can be a challenge in any size room. Fortunately, with a tiny-to-mid-sized bedroom there are clever ways you can create storage. Regardless of the size of your room, clutter can make the space unappealing, causing stress. These clever bedroom storage ideas will keep you clean and organized, no matter how big your bedroom is.
Buy a bed frame that doubles as storage space. Some bed have drawers and shelves built right into their frames. Depending on what you want to place in drawers, you may not even have to get a bureau or armoire to house the rest of your things. If your bed frame lacks drawers but has space between the floor and the box spring, use plastic containers to stow extra bedding.
Go vertical and hang shelves. Every inch counts when it comes to figuring out ways to create storage in small spaces. Use the entirety of your wall from top to bottom. Place a floor to ceiling unit next to the nightstand beside your bed to create an appealing visual. Hang shelves to get items up and off the ground. Consider over-the-door hanging storage for bulky items like shoes, scarves, and hats. This is also a great place to stow jewelry!
Make your own built-in storage unit. If a part of your wall juts out, this creates the perfect opportunity for more storage. Installing custom cabinetry into the wall allows more room for clothes or accessories. The experts at Birmingham painters can help you match the doors of your cabinets to your existing wall color to give off a secret passage vibe, or use glass paneling so you can see what you're looking for before you even open the doors.
Mount a nightstand next to your bed. Traditionally, nightstand tables sit next to the bed, taking up valuable floor space. If you mount your nightstand to the wall, you can use the space under there for shoes or miscellaneous items that you don't want laying around. If there isn't space for a full on nightstand, a wide shelf mounted on the wall next to your bed can be a makeshift table top.
Create a display using a bookcase. Are you a shoe fanatic or a lover of handbags? If you consider these items a work of art, use a bookcase or staggered shelves to showcase them! Doing this can give off the vibes of an art installation right inside your bedroom and save valuable space in closets.
Don't neglect the space above your headboard. Instead of hanging a painting or photo above your headboard, shelving or cabinet units can be a great installation above your headboard. Display a few of your favorite collectibles, but avoid cluttering the space, as this area will quickly collect dust.
Don't feel discouraged by the amount of storage space in your bedroom. Using these tips can help expand the storage options in fun, clever ways. For more storage tips, reach out to St. Johns, NL interior decorator Robin Stairs.