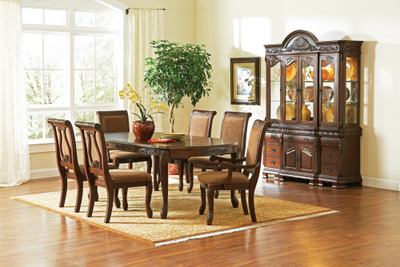 With major holidays like Thanksgiving and Christmas still a ways off, now may be a good time to begin renovate your dining room before you welcome extended family into your home for the holidays. Below are some things to consider as you begin the do-over process:
Theme: The first step when renovating your dining room is to decide on a theme, and appropriate colors for that theme. Do you want something rustic, or do you prefer contemporary décor? Your style and theme affects everything from the color of your walls, floors, furniture, etc.
Furniture: Picking dining room furniture is the next step, as you shouldn't paint or wallpaper your walls until you've got your furniture selected to make sure everything jives.  You can choose to renovate or reupholster existing dining room furniture, or wipe the slate clean and buy a brand new set. You'll need to consider how large of a table you'll want and how many chairs can fit comfortably, whether or not the table has the option to expand, if you want a buffet and hutch, etc.
Flooring: If your dining room is currently carpet, you may want to consider making the switch to hardwood flooring. Hardwood floors give your home a sleek and luxurious feel, and you can always buy an area rug for under the table so the bottom of the chairs and table don't scratch up the floor.
Painting: Now that you've got your furniture and flooring selected, it's time to select a paint color that compliments both. You can chose to paint all of the walls, paint just an accent wall, or do a combination of paint/wallpaper. The possibilities are truly endless!
Light Fixtures: As you're renovating everything else in the room, don't forget about the light fixture. Elegant chandeliers can bring life to the room, and you might even be able to find a great fixture at a thrift store so you don't have to break the bank.
If you begin the process now, come November, your dining room will be ready to be shown off, and your guests can truly dine in style!