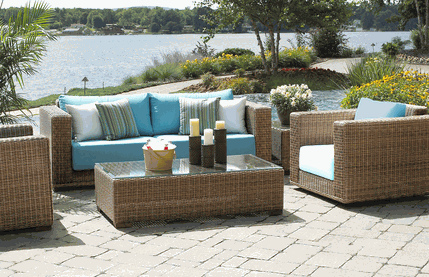 No matter the season, having a place to sit and relax outside of your home has many benefits. You get to breathe fresh air, up your Vitamin D intake, reduce stress and generally feel happier. The patio is the perfect space to optimize for maximum outdoor comfort and pleasure. When designing your patio, there are few things to consider throughout the process. Furniture is at the top of that list! After all, it's what transforms your patio into the ultimate place to relax. Here are tips on choosing patio furniture:
Think about the elements. When purchasing patio furniture, keep Mother Nature in mind. Rain can cause metals like wrought iron to rust. Dry air can cause wood to splinter, and the wind can cause light items to blow away.  To avoid these problems, consider your geographic area and the bones of the furniture you're going to invest in, as well as any cushions or pillows. Look for fabrics that can withstand different weather conditions so you don't always have to run outside and bring them into the house.
Make sure it's comfortable. There's nothing worse than sitting down to unwind and not actually being able to because of the furniture. With that in mind, a good rule to follow is: make hard things soft. No matter what type of chairs, benches, or chaises you buy, get cushions to accompany them. Whether you're lounging in the sun or enjoying a meal al fresco, you'll want comfort to be a priority.
Look for more possibilities. If you don't have a garage, shed or room anywhere inside your house to store the furniture, think about ways the patio furniture itself can act as a storage unit. An easy solution is a bench or ottoman with a removable top. Inside you can store cushions and accessories when it's raining or during the offseason. Place cushions on top and you have extra seating too!
Don't be afraid of color. While most of your chairs and tables will come in black, white or a neutral color, you can incorporate pops of color in the cushions, pillows, and rugs. Look for bright solids or fun patterns that go with the vibes of the rest of your home. You can also use the colors of the nature surrounding you to compliment the decor. Surrounded by greenery? Throw some red in the furniture. Is your view an ocean or lake? Nautical patterns are perfect!
Invest in UV protection. Have you ever stepped outside for a moment only to wind up sitting out there for hours? In times like these, it's easy to forget sunscreen. Make sure you invest in a sturdy umbrella or awning for those spontaneous moments or particularly sunny days. Even when it's scorching outside, a little shade will go a long way.
Your patio is your outdoor oasis. When it comes to choosing your patio furniture, weather resistance and comfort are key factors to take into consideration. For more help designing your patio, contact Mimi Wilson, a Northern Virginia interior decorator.