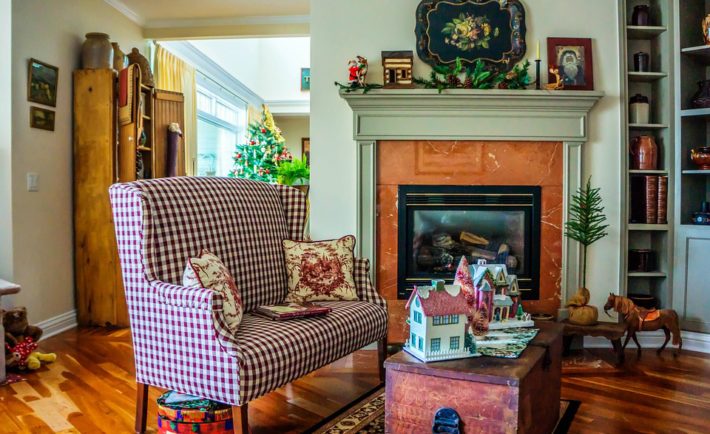 The holiday season gives us a reason to celebrate with loved ones, get stuffed on food, and for some of us, refurbish our home! While the Christmas season does demand festive decorations, we may also want to consider purchasing new furniture to accommodate our guests. Before you start spending, consider these options to make sure you're catering to your specific gathering needs:
Dining Room
The dining room table is considered the centerpiece of every home during the holiday gatherings. Factor in these elements to make sure your dining room is both stylish and comfortable for your guests to feast:
Shape. The key to deciding on the appropriate shape for your table is to know the number of guests you're expecting. Rounded tables provide a more intimate setting for small gatherings. However, it can have an opposite effect with larger groups – a round table that's too big may leave your guests struggling to hold a conversation across the table. For a seating of 12, a rectangular table would be most practical. Oval tables fare well with medium-sized groups, while square or rounded tables work best with small groups. If you can, find an expandable table that allows you to remove its leaves to best serve gatherings of various sizes.
Style. The style of your table should match the overall style of your dining room. According to the experts of Cape Coral, FL painters, pairing the right furniture with the right wall color is the key. Antique-style furniture creates a more historical setting for your dining room while showcasing beautiful craftsmanship and pairs well with richly toned colors, like burgundy or navy. If your room is more contemporary, we suggest opting for a glass or marble tabletop in a room painted in lighter hues. When choosing materials, mahogany and walnut provide a formal appearance while oak, while cherry and pine give a casual and relaxed feel.
Living Room Furniture
Does your living room look uninspiring and in need of a makeover? Before you head over to the furniture store, make sure you get these things in check:
Measure your room. Take note of the length and width of the room.
Devise a floor plan. Sketch a few different plans to determine how much space you'll need for holiday furniture.
Check the size of doorways. The last thing you want is to find out your newly bought furniture can't fit through the doors. Make sure you measure your doorways accurately.
Consider how the room is used. If you plan to have your guests gather in this room during a party instead of staying in the dining room, consider increasing the number of furnishings you buy.
Determine the space for your Christmas tree. What is Christmas without a classic old Christmas tree? Make sure you set a space for your tree while leaving additional space on the ground for presents.
Once you've gone to the store and bought your furniture, it's time to arrange it!
Sense of entry. Make your rooms open and welcoming to your guests by setting an easy path for them to walk through it. There should be a clear path that separates the seating areas and dining areas. This way, separate conversations can take place on each side.
Intimacy. If you have a large living room, consider arranging your furniture into small groups. Your guests can sit down in clusters to engage in conversation instead of having to lean over the coffee table to talk.
Forget about television. Television can be a means to relax at times, but for holiday parties, it actually serves as a diversion from good conversations. Rearrange your furniture so it faces the opposite direction and fosters conversation between guests.
Allow foot traffic. Don't forget to leave some space between furniture to allow for pathways. By allowing enough space for foot traffic, our guests will be able to circulate your rooms with ease.
This time of year can be stressful if you're not well-prepared for the heavy traffic of family and friends in your house. However, don't let that ruin your holiday mood. With the right setting, you and your guests can focus comfortably on what really counts  – each other!