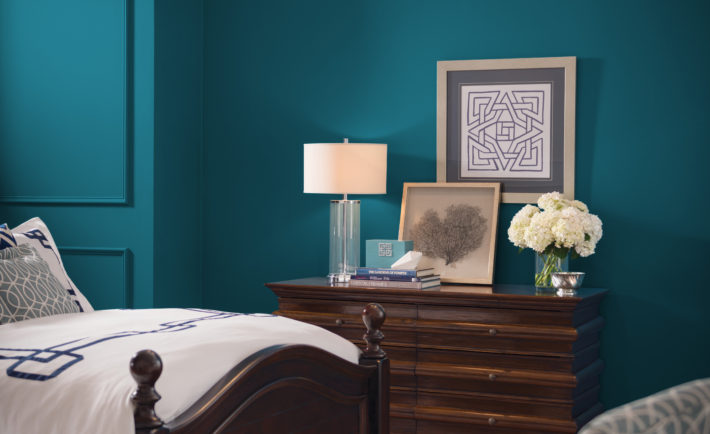 Using Sherwin-Williams 2018 Color of the Year
Recently, Sherwin-Williams announced the 2018 Color of the Year is Oceanside (SW 6496). Their decision was inspired by wanderlust, or the urge to travel and experience all of the beauty the world has to offer. Oceanside is a beautiful, opulent greenish-blue that will work well in a variety of mediums throughout your home. Discover how to incorporate 2018's Color of the Year into your home design!
Mix and match. Oceanside is a versatile color, which means it plays well with a plethora of other colors, from bright neon pinks to natural sandy beiges and desert taupes. Whether you're looking to do a total room renovation or you're simply looking to upgrade the color of your walls, it's easy to pair Oceanside with your existing decor or whichever colors and textures you have laid out in your plans.
Bring in the calm. Oceanside was chosen for the sense of wonder and adventure it evokes, but the cool undertones the color is based on, making it the perfect shade for living and bedrooms. The hue evokes a tranquil sense of peace, making you feel as though you're relaxing in a watery oasis.
Incorporate accents. If you're not sold on Oceanside as a wall color, you can still utilize it throughout your decor. Find Oceanside chevron print curtains to pair with the neutral walls and dark furniture in your living room. Dress up a neutral couch with an Oceanside throw pillow or blanket. Incorporate the shade into your dining room tablescape with Oceanside flowers or a printed tablecloth. The possibilities are endless!
Use Oceanside in your home to remind yourself that adventure is out there. For more tips on using the Sherwin-Williams Color of the Year in your decor, contact Mary Paul, a Leander interior decorator.