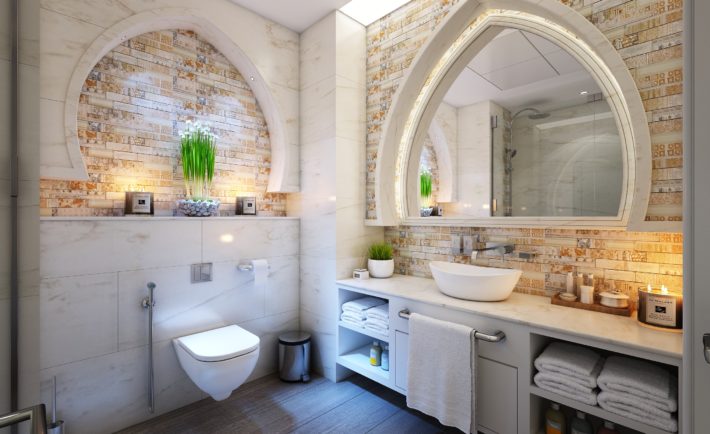 Picture your bathroom – the place where you clean and prepare yourself for everyday life – a place many homeowners tend to ignore on the list of "places to clean." Many people's bathrooms quickly become cluttered with hair product, makeup, razors, and bath toys in the blink of an eye. If one of your New Year's resolutions is to get organized, take a look at these ideas to help remove and prevent clutter in your bathroom.
Under Sink Storage:  Many disregard the area right under the sink, considering it as a space that won't quickly become cluttered due to the lack of space from plumbing.Many homeowners forget that there is still plenty of space there that can quickly fill up with cleaning, personal care products, and other bathroom accessories. To avoid clutter, install a shelf or pull-out bins for storing items. When you need something, you'll be able to find it!
Wall Storage:  Never underestimate the power of wall space in your bathroom! Try adding a narrow cabinet above your sink to store washcloths, hand towels, and everyday toiletries. Medicine cabinets are a popular choice, as they often double as a mirror and serve as discreet bathroom storage. If you're still in need of extra space, add shelving to your walls. Sleek, minimal and functional floating shelves provide the right amount of space without looking bulky. Storing your toiletries on exposed shelving has become a very popular trend, as long as you keep them organized! Use decorative baskets to disguise items usually left out in the open on shelves and a hamper for placing dirty towels or laundry clothes.  Don't forget about the space above your toilet – take advantage of it by adding shelves or a small cabinet.
Tiered Storage:  Layering has become a popular trend within interior design. Try incorporating this trend into your bathroom with tiered towel rods or bath caddies. Instead of using a single towel rod, try using a tiered one that allows for variously sized towels to be stored in one place. For added storage, keep all of your shampoo bottles and soaps under control in one area of the shower with a tiered bath caddy. If you've utilized all of your wall space for storage, consider your bathroom door! Mount a towel rack over the door to hang robes and towels, or hang a shoe organizer to store various toiletries.
Whether you are a new homeowner or have lived at your residence for years, be aware of your bathroom and how quickly it can become cluttered. Maintain organization in your bathroom this year with these awesome tips!